Gravesites of Nerissa Casualties Washed Ashore in Scotland and Ireland
CORPORAL DUNCAN BELL D93706 - ROYAL CANADIAN ARMY MEDICAL CORPS
Bell's body washed ashore off the south-west coast of Co. Donegal and is buried in Killybegs Cemetery, Co. Donegal. He was 41 yeras old, from Verdun, Quebec, Canada.
Headstone inscription shows: D93706 Corporal D. Bell; Royal Canadian Army Medical Corps; 30th April 1941; Age 41. Deep in Our Hearts, Your Memory is Kept, We Smile with the World, But Never Forget.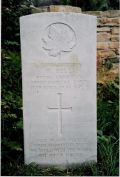 Click for a larger view.