Gravesites of Nerissa Casualties Washed Ashore in Scotland and Ireland
T/CQMS VICTOR CLARKE - ROYAL CANADIAN ARMY SERVICES CORPS
Clarke's body washed ashore in Ayrshire in August, 1941 and is buried in Girvan (Doune) Cemetery, grave No. 96Y. He was 31 years old, from Ottawa, Ontario, Canada.
Headstone inscription shows: P/27944 CQMS V. CLARKE; Royal Canadian Army Service Corps; 30th April 1941; Age 31; In Loving Memory of a Dear Husband and Daddy; Beatrice and Victor.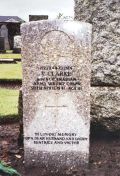 Click for a larger view.