Gravesites of Nerissa Casualties Washed Ashore in Scotland and Ireland
LT THOMAS ELVIN MITCHELL - CARLTON YORK REGIMENT - RCIC
Mitchell's body was found washed ashore at Belmullet, Co. Mayo on 23 May 1941. He was buried in Belmullet Protestant Churchyard on the same day. Home address: Pagan Street, St. Stephen, New Brunswick, Canada. [ref. Martin Gleeson]. The CWGC shows that Thomas Elvin Mitchell is buried in Kilcommon Erris Church of Ireland Churchyard, Co. Mayo. His body could have been reinterred at a later date. Mitchell was age 20, son of Thomas and Bessie Irene Mitchell of St. Stephen, New Brunswick, Canada.
Headstone inscription shows: Lieutenant T.E. Mitchell, Carleton and York Regiment, 30th April 1941, Age 20. With Love and Pride We Commit Our Son Into the Eternal Keeping of God.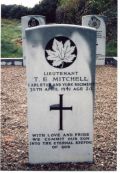 Click for a larger view.