Gravesites of Nerissa Casualties Washed Ashore in Scotland and Ireland
CAPTAIN JOHN ROBERT TOWNSHEND - ROYAL CANADIAN ARTILLERY
Townshend's body washed ashore off the north coast of Co. Antrim and is buried in Bonamargy Cemetery, Plot 2. Grave 16. He was 38 years old, from Winnipeg, Manitoba, Canada.
Headstone inscription shows: Captain J.R. Townshend; Royal Canadian Artillery; 30 April 1941; Age 38; Beloved husband of Mabel Beatrice Townshend and Dear Father of John, Patricia and Robert.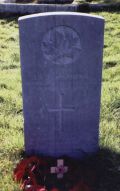 Click for a larger view.