Gravesites of Nerissa Casualties Washed Ashore in Scotland and Ireland
WING COMMANDER ARCHIBALD GRAHAM WEIR - ROYAL AIR FORCE
Weir's body was found washed ashore at Corraun Point, NW of Blacksod Look-out Post on 4 July 1941. He was buried in Belmullet Protestant Churchyard on 5 July 1941. (Two of his sons also died during the War. One, a fighter pilot, was shot down and killed during the Battle of Britain. The other, an Army major, died at Anzio in February 1944). [ref. Martin Gleeson]. Weir was age 55, son of Archibald Alfred Egles and Anna Weir; husband of Mary Evelyn Oldfied Weir of Shaftesbury, Dorsetshire, England. Also served in the 1914-1918 War. M.A. (Oxon.) Worcester College. The CWGC shows that Weir is buried in Kilcommon Erris Church of Ireland Churchyard, Grave 13, Co. Mayo. His body could have been interred at a later date.
Headstone inscription shows: Wing Commander A.G. Weir, Royal Air Force, 30th April 1941, Age 55. "Perfect Love Casteth Out Fear" He Lives United With Us To Do God's Service.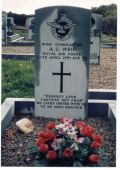 Click for a larger view.