Gravesites of Nerissa Casualties Washed Ashore in Scotland and Ireland
ERNEST WALTER WINSPEAR R122371 - STEWARD, BRITISH MERCHANT NAVY
Winspear's body washed ashore off the north coast of Co. Donegal and is buried in Upper Fahan Churchyard. He was 30 years old, from Scarborough, Yorkshire, England. He was a deck steward in the crew of the Nerissa.
Headstone inscription shows: E.W. Winspear; Steward S.S. Nerissa; 30th April 1941; Age 30. Remembered Always by Mother and Family of Scarborough, Yorkshire. R.I.P.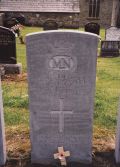 Click for a larger view.